Waveterminal 192M 24bit 192KHZ
4 analog in 8 analog out sound card with no reserve and low starting bid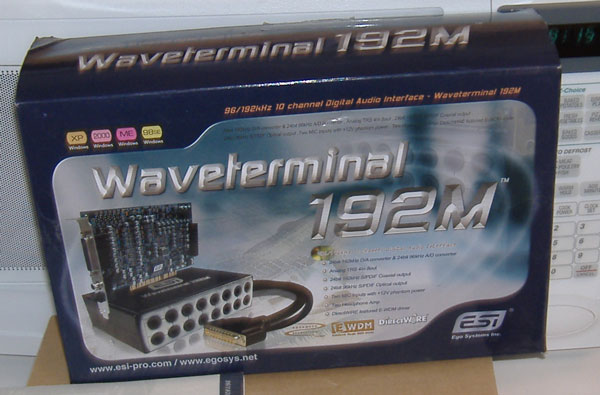 up for grabs is a used EGO Systems Waveterminal 192M. This item was installed for only 3 months and has been in a box, in my studio ever since I bought it. It is in nearly FLAWLESS physical CONDITION and functions just like new.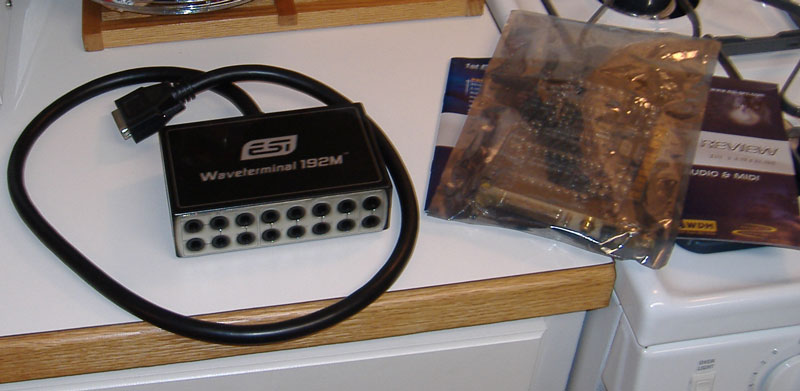 Used but like new, in original box, with original packaging, original manual and all other paperwork.. THE ONLY THING MISSING IS THE ORIGINAL DRIVER CD however I WILL BE PROVIDING THE most recent DRIVER ON CD WITH THE PACKAGE. (you wouldn't want to use the old version anyway)
As I said, I didn't use it long, but I've owned it for roughly 2 years.. I've had a usb 24bit card for the last 2 years, and had no need to use both.
OK here is the manufacture's stuff.. but you probably know what you are looking at anyway..
The Waveterminal 192M Sound Card is the exciting new 24bit 192kHz audio peripheral. Waveterminal 192M offers 4 Analog Inputs and 8 Analog Outputs with 24bit 192kHz S/PDIF Coaxial output and 24bit 96kHz Optical Output.
Great new features include two mic inputs with 12V phantom power. Product Features the Waveterminal 192M supports DirectWire which is provided by any E-WDM supported products from ESI. This cool feature will simplify hassles of wiring externally for Inter-driver/Inter-application audio data transfers. For example, when you record sound sources of GigaStudio to Cakewalk Sonar (or any multi-track recording applications), you have to do complicated external wiring. But if you use DirectWire, you don't need external cables. Also DirectWire digital processing can reduce loss of sound quality or data. Especially when you use software synthesizers or virtual instruments, DirectWire will help you to simplify your setup.
*
The Waveterminal 192M supports E-WDM, ESI's unique and powerful driver for perfect compatibility with Windows XP, 2000, ME, and 98SE, offering ultra low-latency performance with all popular digital audio software applications including Nuendo, Cubase, Gigastudio, Cakewalk, Sonar and Logic. In fact, any software that fully supports Windows XP will support the E-WDM driver.
*
It Includes:
High quality 24bit 96kHz A/D converter; 100dB Dynamic range
*
High quality 24bit 192kHz D/A converter; 104dB Dynamic range
*
4 Channels Analog Input: 4 Unbalanced +4dBu Line inputs(1/4" TRS Phone jack) 2 Balanced Mic Input(1/4" TRS Phone Jack)
*
8 Channels Analog Output: 8 Unbalanced +4dBu Line Outputs(1/4" TRS Phone jack)
*
24bit 192kHz S/PDIF-AC3 Coaxial Output and 24bit 96kHz Optical Output
*
Supports multiple Sampling Rates ; 16, 22, 24, 32, 44.1, 48, 88.2, 96, 176.4, 192kHz
*
Full Duplex - Simultaneous Record/Playback
*
Uses 32bit PCI slot: PCI Bus-Mastering support
*
2 MIC preamp with +12V Phantom Power
*
2 Stereo Headphone Outputs with Headphone Amps: -HP1;Out12 or Channel Mixed out Selectable. -HP2;Mixed Output
*
Supports the E-WDM driver: Multiple MME, Multiple Direct sound, ASIO 2.0 and GigaStudio, Direct KS support for SONAR
OS: Microsoft Windows XP/2000/ME/98SE